These classic Chinese baked char siu bao buns are filled with deliciously juicy and tender char siu pork and surrounded by a soft, light, and fluffy bread roll. Imagine biting into these warm pillowy milk buns to discover a juicy sweet and savory Chinese bbq pork filling that is bursting with flavor and utter excitement.
Now you can make this popular dim sum classic in your home with this baked char siu bao recipe. This is a childhood favorite of mine. My favorite part of the day was rushing home from school to find one of these warmed buns on the counter ready for me to devour. They are undeniably delicious with a juicy sweet, savory pork filling wrapped in a warm, soft, pillowy milk bread. Something about a beautifully glazed Chinese BBQ pork-filled bun that is packed with a savory char siu sauce just sends goosebumps through my body. Every time I begin to eat one bun, I cannot stop until the entire tray is finished. Whoops.
You can make the char siu from scratch with this recipe or buy the meat pre-made at the store. Pair these baked char siu bao buns with a glass of matcha lemonade or a matcha pineapple drink and you have got yourself a mouthwatering after-school special! I have provided a comprehensive recipe and instructions on how to create your very own Baked Char Siu bao at home.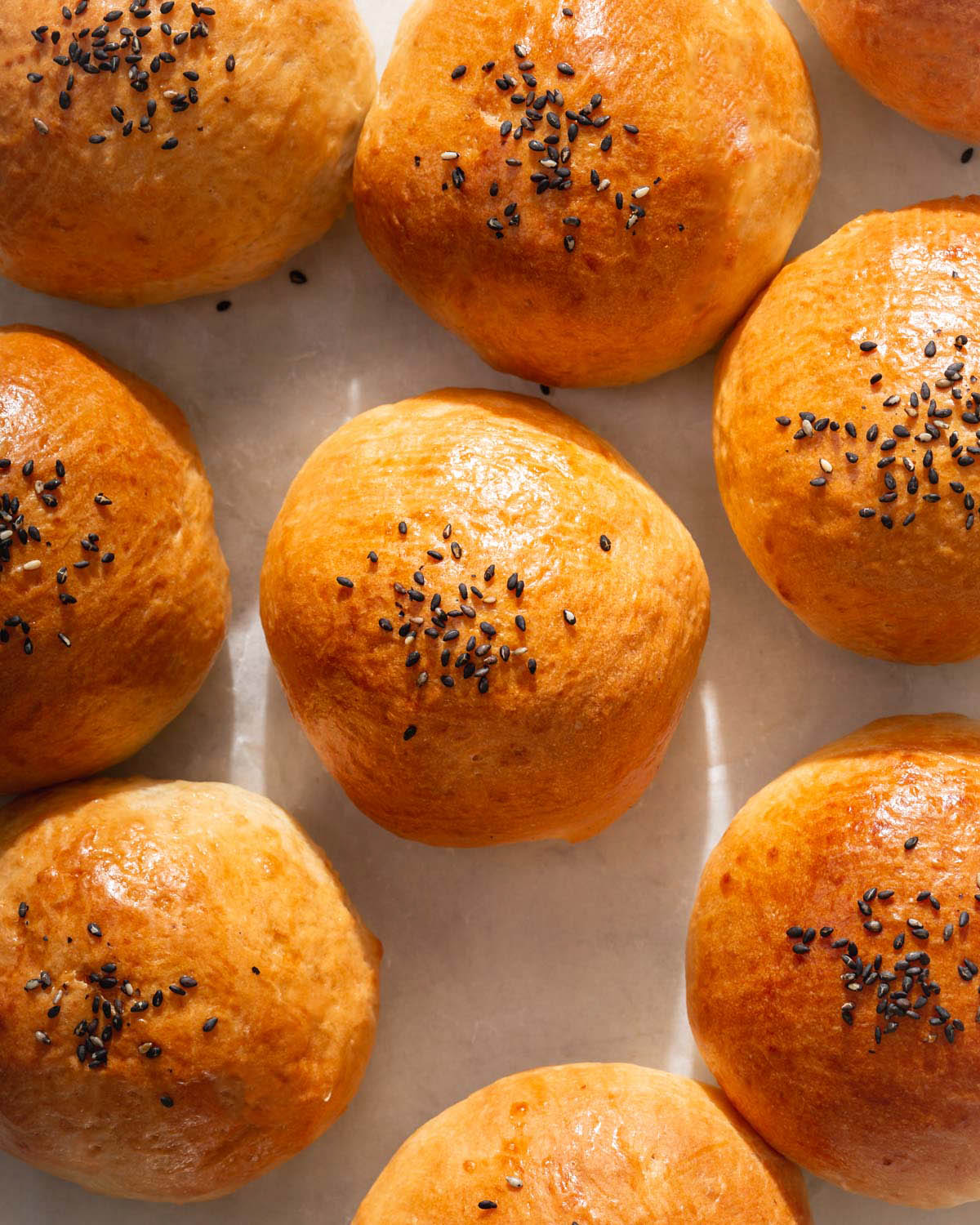 Char Siu or Chinese BBQ Pork
Char siu pork is at the heart of these buns. You will want to use the highest quality, most juicy, tender, and delicious cut of pork shoulder you can get your hands on.
For this you have two options— 1)You can either buy your local Chinese takeout Char siu or 2) check out our delicious and popular Homemade Char Siu recipe.
The pork itself only takes about 50 minutes total to cook (minus the overnight marinating), and it tastes about 100x more delicious and satisfying because it was made from scratch. Trust me it is worth it. Plus if you make extra, you can always freeze the char siu for other meals and dishes later!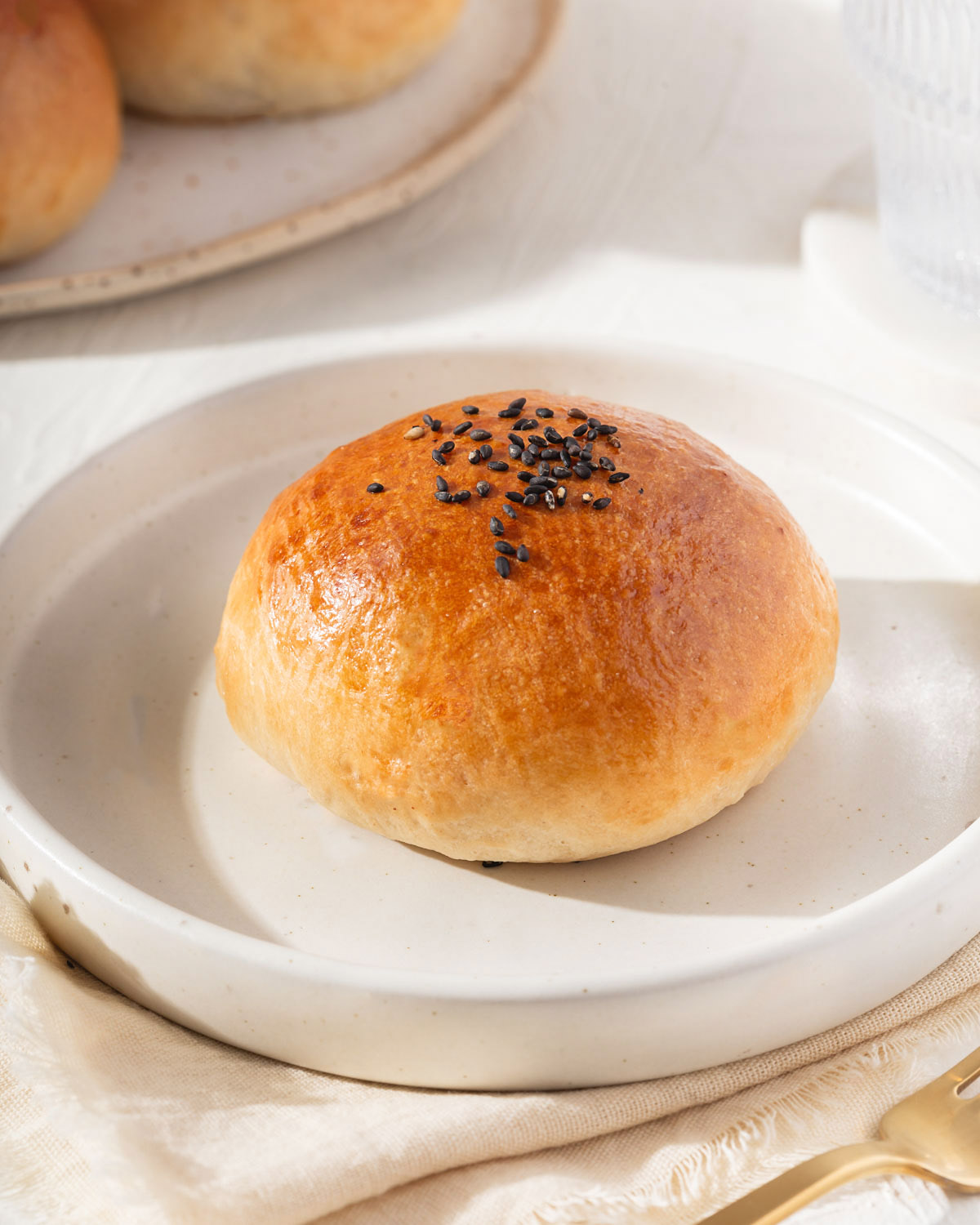 Kitchen Equipment For This Recipe
Ingredients For This Recipe
All of these ingredients for this baked char siu bao is relatively easy to find. You will be able to buy all the ingredients for this recipe online or at your local Asian grocery market.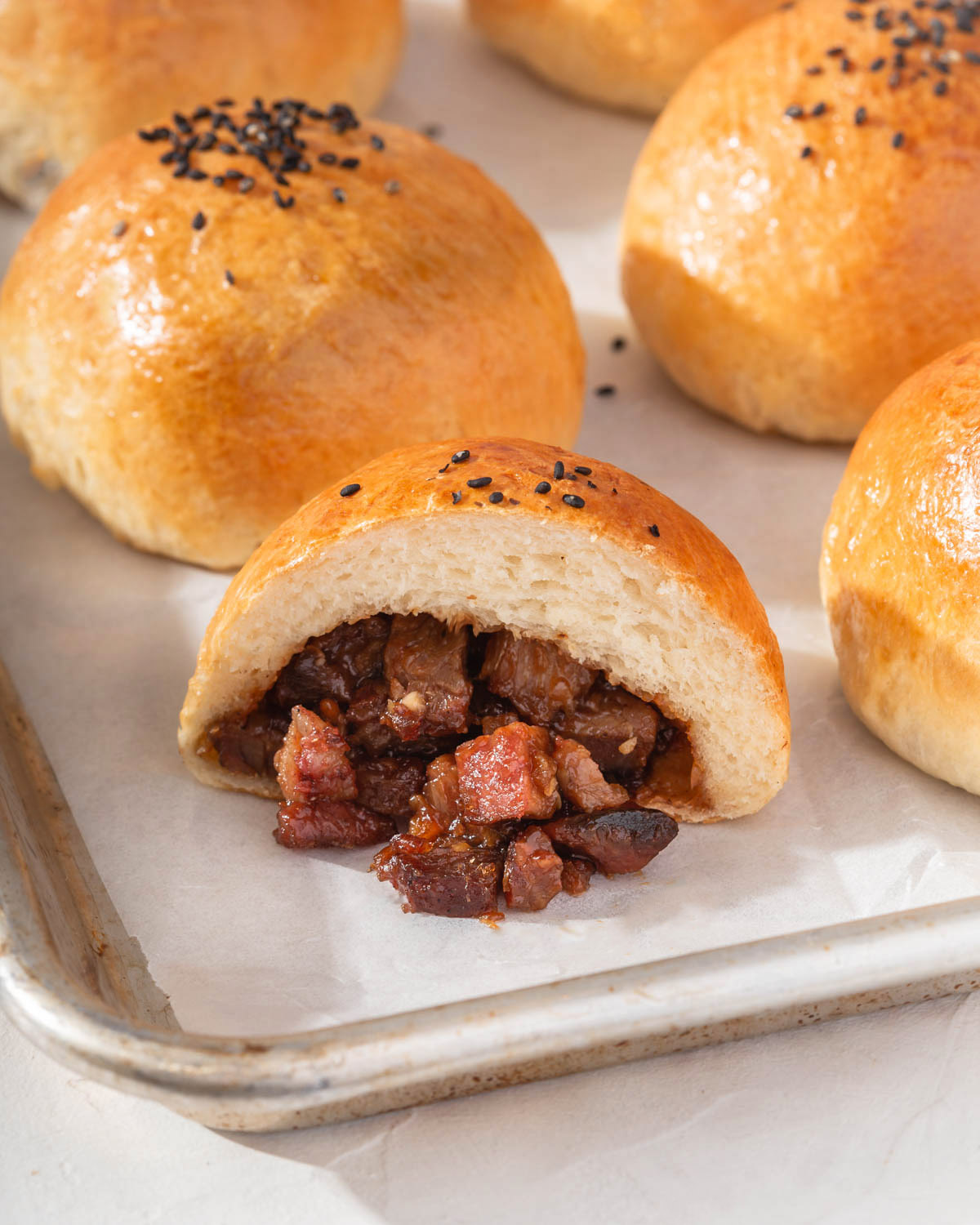 Ingredients for the Milk Buns
This is a variation from my traditional milk bread recipe. I eliminated the Tangzhong method for these buns to make the process simpler. They will still yield an equally soft and pillowy milk bread.
Milk: the warmed milk at 110°F activates the yeast. You can always use lactose free milk for those lactose intolerant folks out there who are like us.
Active Dry or Instant Yeast: see more about the different ways to activate the yeast in the Tips section.
Granulated Sugar: the sugar is used to activate the yeast.
Salt: adds a hint of flavor to the bread.
Bread flour: bread flour is key in making this bread. It has a higher protein content than all-purpose, usually 11-13%. It's called bread flour because most bread requires higher amounts of protein to produce lots of gluten. If you use all-purpose flour instead, the bread will be slightly wetter and more dense rather than light and fluffy.
Unsalted Butter: the butter adds flavor and makes the dough moist.
Large Egg: the egg binds the dough together and aids in the rise of the dough
Ingredients for The Filling
Store bought v. homemade char siu: You can always run to your local Chinese takeout restaurant and buy a slab of char siu or you can make your very own homemade char siu which always taste 100x better than store bought.
Vegetable Oil: used to stir fry the shallots and garlic without burning.
Shallots and Garlic: these adds fresh aromatics to the sauce.
Hoisin Sauce: is a fermented soybean paste that adds a sweet and salty addition to the sauce. You can buy

Hoisin sauce

online or at your local Asian grocery market.
Oyster sauce is a mixture of carmelized oyster juices, salt, sugar, and soy sauce. It adds an extra umami flavoring to the dish. You can find

oyster sauce

online or at your local Asian grocery store.
Light soy sauce: Light soy sauce is thinner and lighter in color and adds a gentle saltiness to the dish. You can buy my favorite

Lee Kum Kee light soy sauce online

or at your local Asian grocery store.
Dark soy sauce: Dark soy Sauce has a more intensity in flavor, saltiness and is much darker. Also, dark soy sauce has a sweeter flavor due to it being aged longer with molasses. You can buy my go-to

Lee Kum Kee dark soy sauce

online or at your local Asian grocery store..
Sesame Oil: sesame oil has a strong sesame flavor so a little goes a long way. The smokey flavor in sesame oil is something you cannot replicate. You can find

sesame oil

online or at your local Asian grocery store.
Five Spice Powder: also called

Chinese Five Spice Powder

adds the beautiful burst of Chinese aromatics.
Chicken Stock (no sodium): chicken stock is used as a flavoring base for the char siu sauce.
Cornstarch: is used to thicken the sauce so that it sticks to the char siu pork.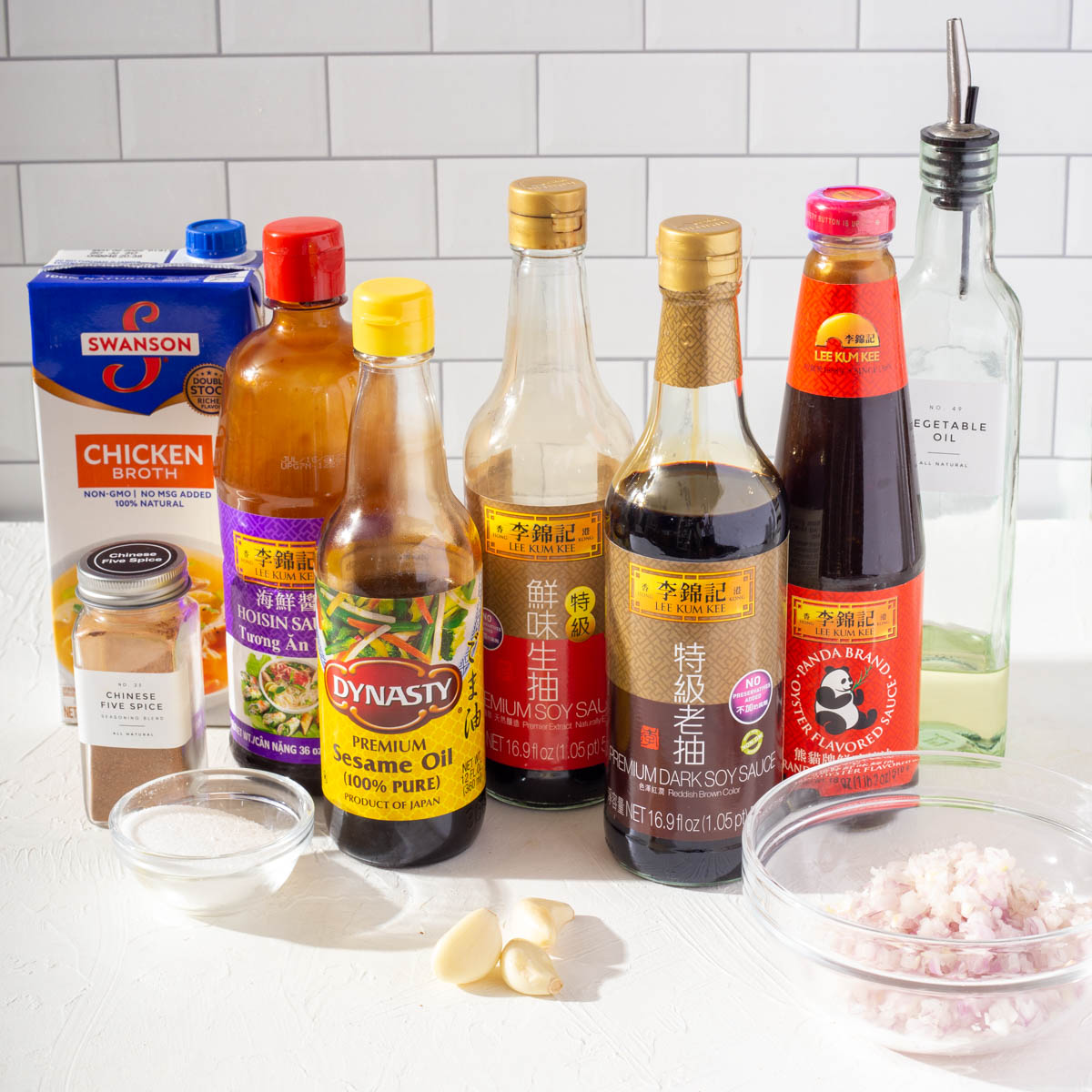 How To Make This Recipe
You can make these baked bbq pork buns in just three simple steps 1) make the dough, 2) make the filling, and 3) shape the buns and bake. These steps may require some wait time for the bread to prove but trust me it will all be worth it in the end.
Make the Dough
Bloom the yeast. Heat the milk to about 110°F (38°C) in the microwave for about 30 seconds. Add the yeast and a pinch of sugar and gently mix. Cover and let the mixture bloom for about 5-10 minutes.
Combine all the ingredients. In the bowl of your stand mixer with a dough attachment, add the sugar, salt, and bread flour. Mix until combined. Then add the egg and milk mixture and knead until it forms a dough about 1-2 minutes. Lastly add in the softened butter and knead until combined. Then increase the speed to medium high speed and for 16-17 minutes or until the dough is smooth, stretchy and passes the window pane test. (Pull a piece of the dough with both hands until it is thin and translucent. If you can see your fingers through the dough, without it tearing it is ready).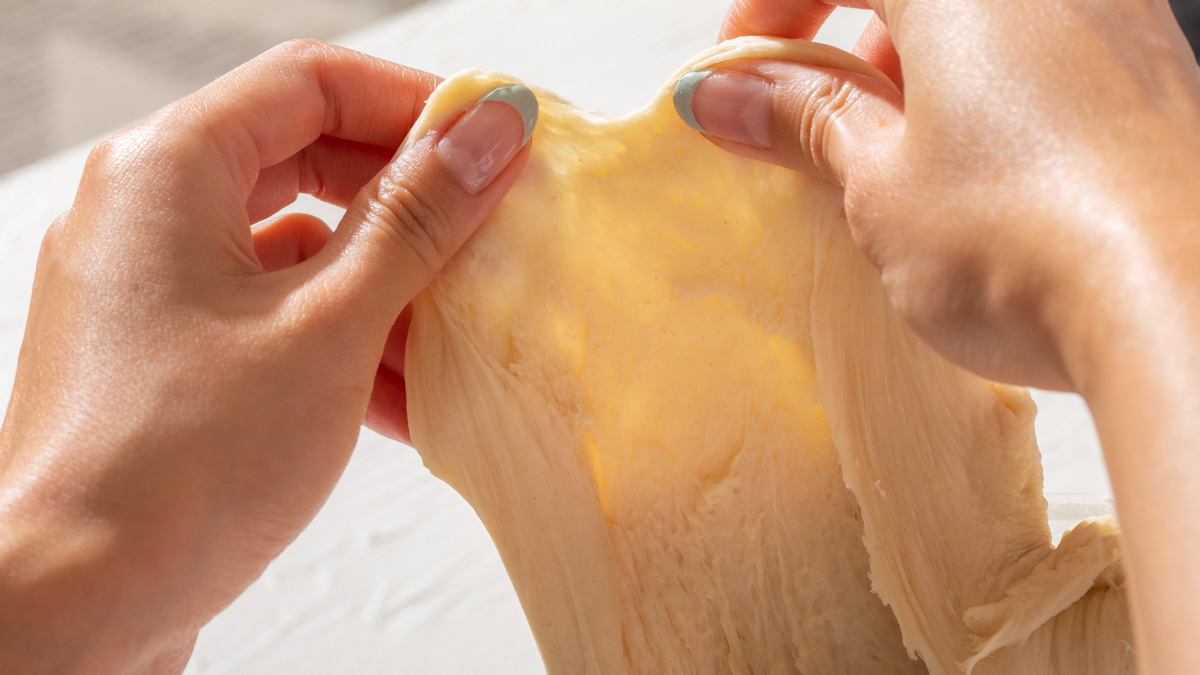 Proof the bowl. Place the dough in a lightly greased bowl. Cover and proof in a warm (100°F) place for about 1 hour or until double in size.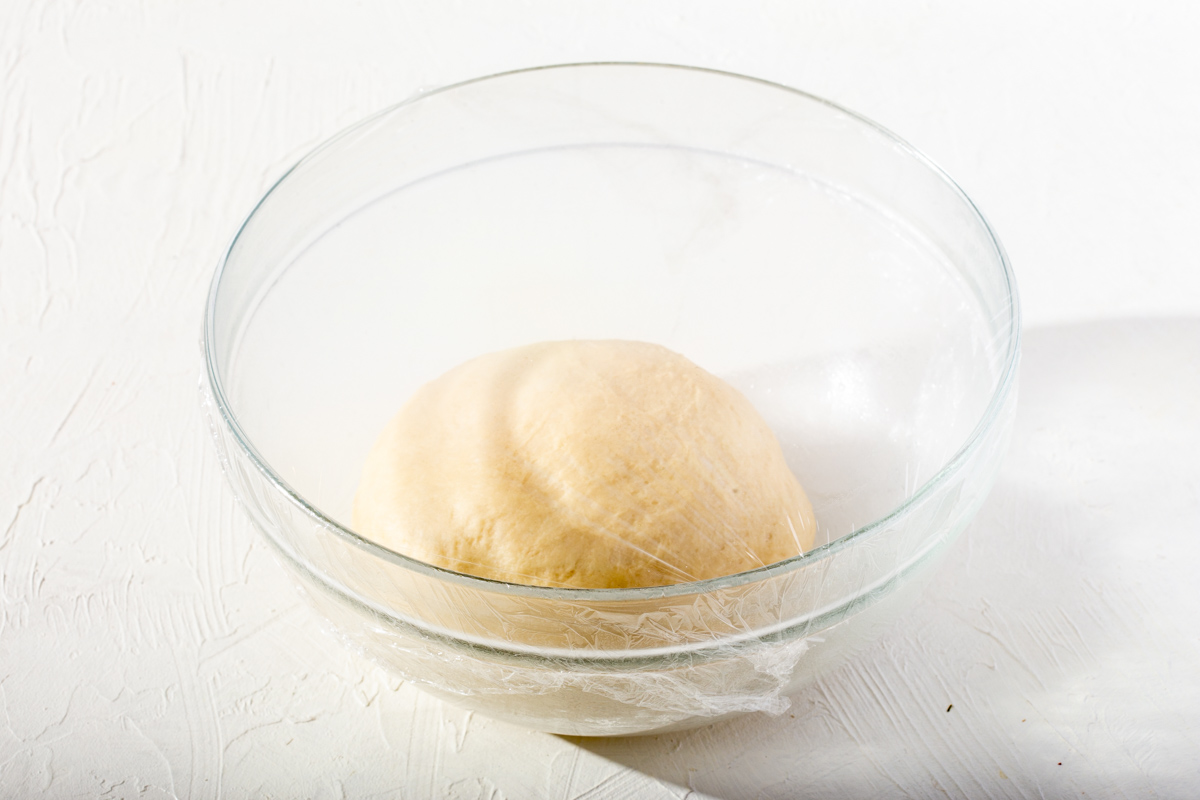 Char Siu Filling
Make the Char Siu sauce. In a medium/large saucepan, add the oil, shallots and garlic. Heat on medium high and stir-fry for about 2 minutes or until browned and fragrant. Next add the hoisin sauce, oyster sauce, shaoxing wine, sesame oil, sugar and five spice powder and mix. Heat until it begins to boil. Mix the cornstarch and chicken stock together to make a slurry. Pour in the slurry and mix on low heat until thickened.
Add the diced char siu. Gently fold the diced char siu and mix until evenly coated. Divide the filling into 12 even portions and shape them into a ball with your hands.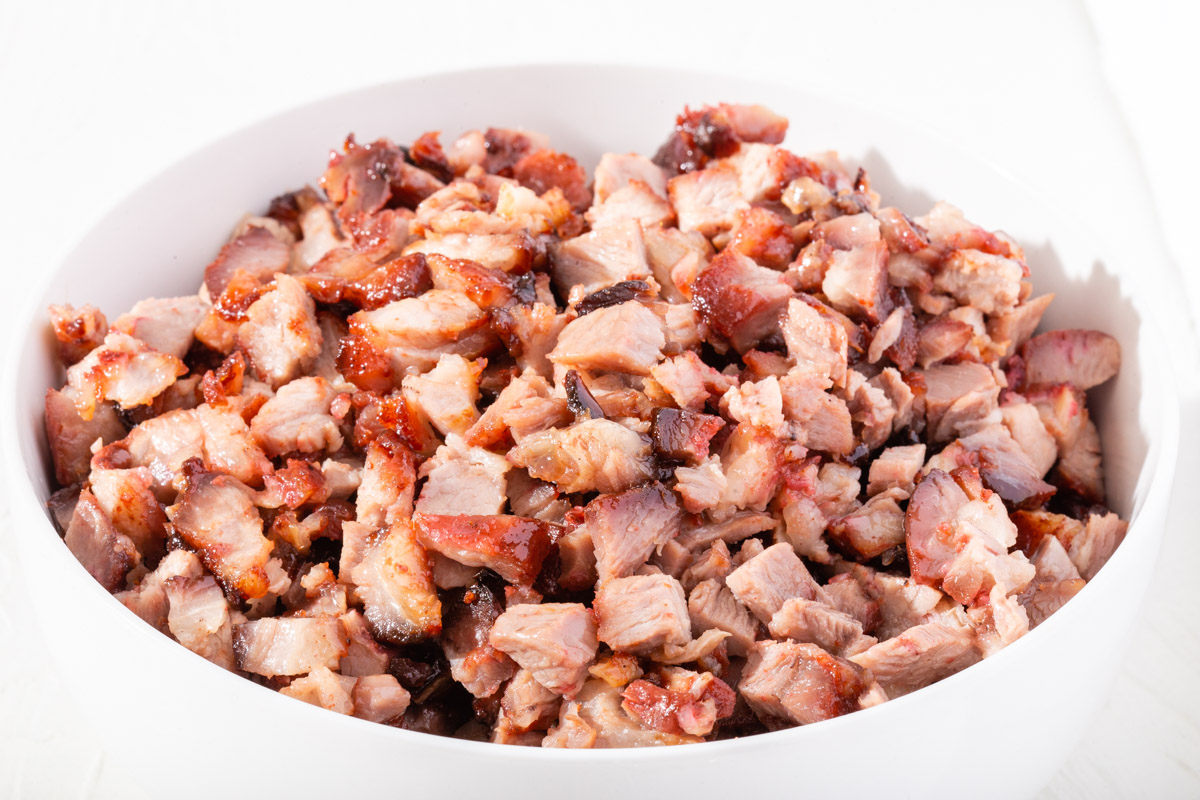 Shape the Buns
Divide the dough and form them into balls. Deflate the dough and divide into 12 even pieces (61-62 g each). While you are dividing, cover the dough pieces with plastic wrap to prevent from drying. Tighten all the dough pieces by pulling the dough under itself a few times, pinch the seam at the bottom and shape into a ball. Cover the dough with a plastic wrap to prevent from drying.
Flatten the dough balls into discs. When they are all rolled into balls, flatten out the dough and using a rolling pin roll the dough into a 4-5 inch disc. Try to keep the center thicker than the edges. So that the bun will be even when wrapped.
Add filling and seal. Add the divided filling in the center. Pinch the edges over the filling and tightly seal. Flip the bun over and roll it in a circle motion to tightly seal.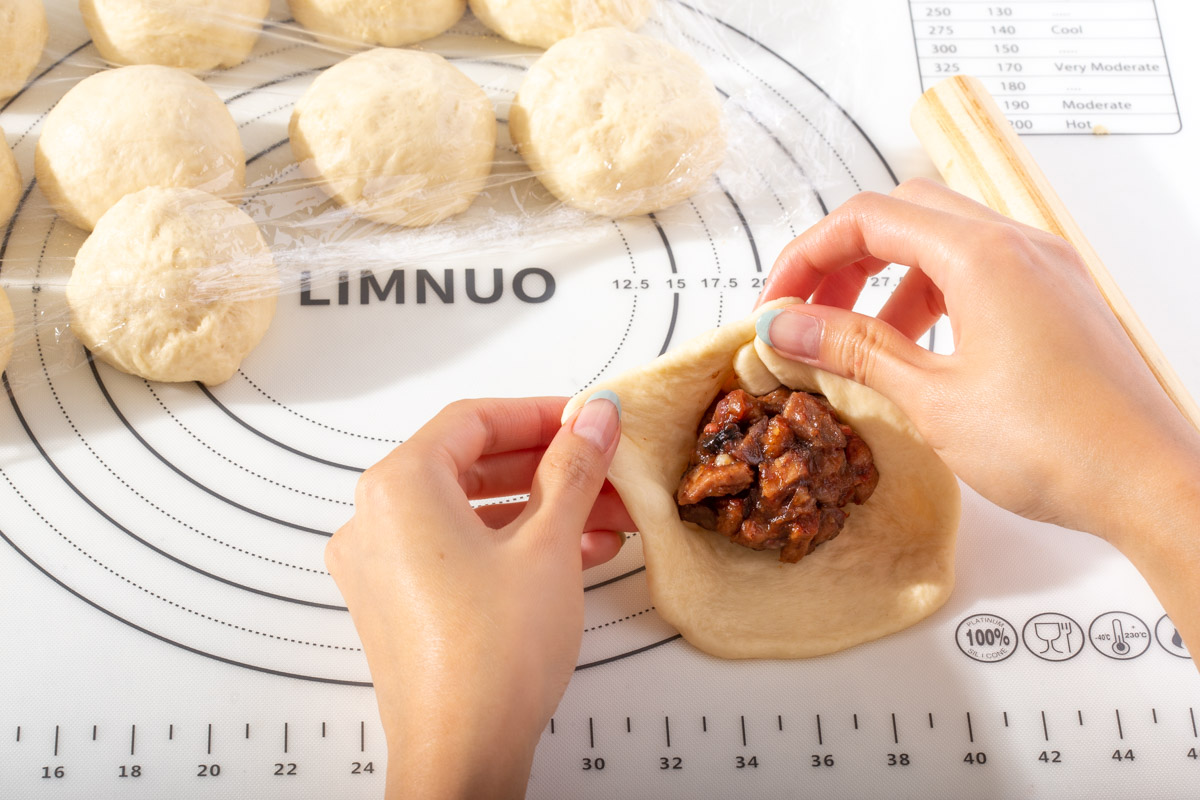 Proof a second time. Place the buns on a parchment lined baking sheet about 2 inches apart and cover with a kitchen linen. Proof in a warm place for 25-30 minutes or until almost double in size.
Bake and serve. Pre-heat your oven to 350°F (176°C). Gently brush a thin layer of milk on top of each bun, sprinkle with sesame seeds and bake for 15-20 minutes or until golden browned. Cool on a wire rack and serve warm.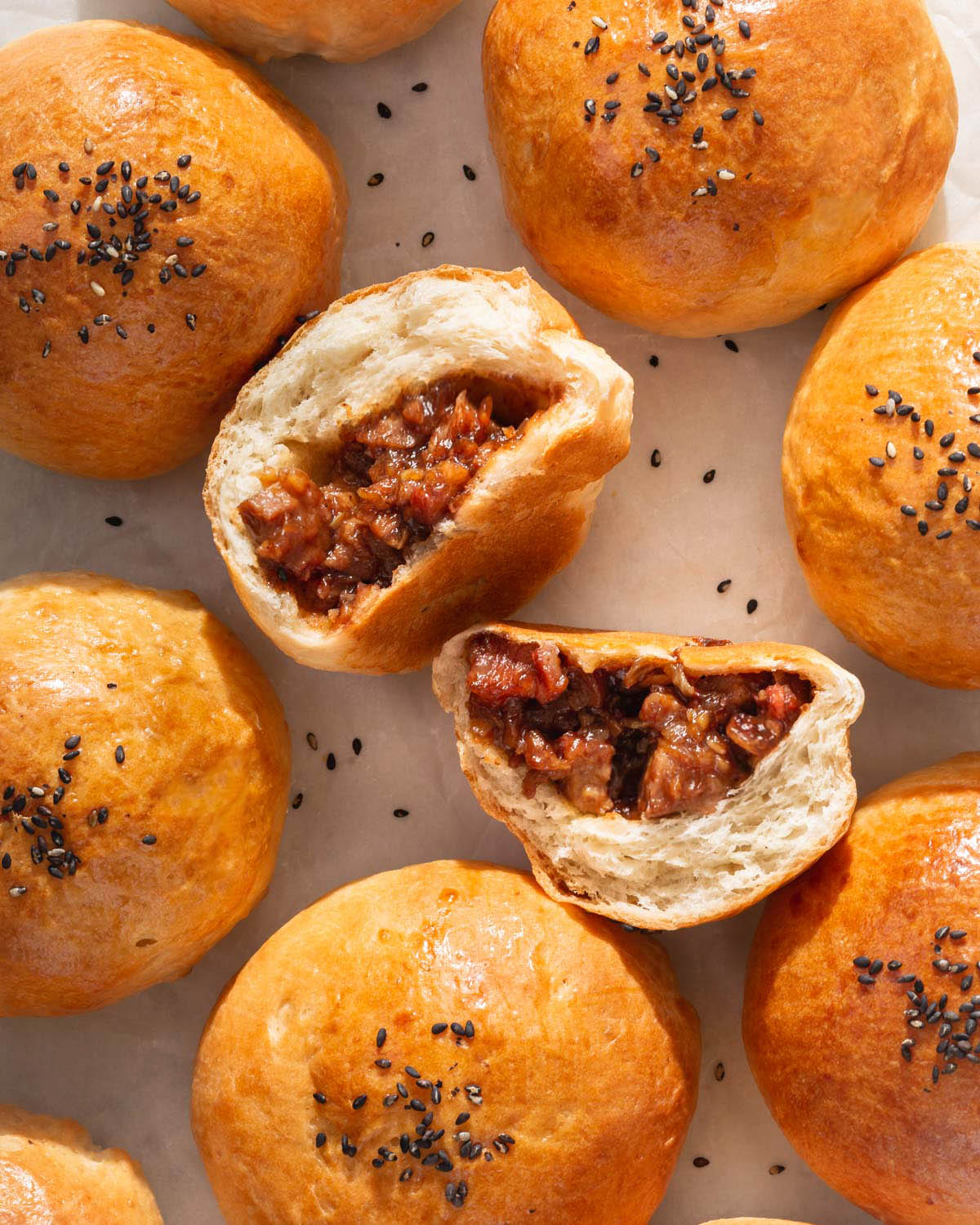 Tips For This Recipe
Instant v. Active Dry Yeast: for instant yeast, traditionally you do not have to wait for the yeast to bloom for about 5-10 minutes like you have to with active dry yeast. However, I like to do this extra step to make sure the yeast is still alive. Alternatively, You can skip that step and immediately mix everything together in the stand mixer.
Stand mixer v. hand kneading: if you do not have a stand mixer you can do it by hand by mixing the ingredients in a bowl until it forms into a dough and then knead the dough on a well floured surface for about 25-30 minutes until the dough is soft, pliable and passes the window pane test. Do not be afraid to really work the dough. The more you work it the softer it will become.
Proof the dough in a dark warm spot (preferably the oven): Proofing the dough is key to making it soft and pillowy. Make sure to proof until the dough has doubled in size. The dough will rise quicker if it is in a warm spot like the oven. If your oven has a proofing setting use it. Otherwise, you can place a bowl/cup of boiling water in the oven behind your dough bowl and it will simulate a warm place for the dough.
When rolling out the dough into balls/discs keep the remaining dough covered. If you leave the dough uncovered, the dough will dry out making it difficult for you to shape the dough. Make sure to cover the dough with a plastic wrap or a kitchen towel.
Storage Instructions
You can store these buns in an airtight container in the refrigerator for up to 5 days. To re-heat simply plop them back in the oven at 350°F or microwave until warm.
You can also freeze the buns in the freezer for up to 1 month. Simply, bake them frozen at 350°F for 10 to 12 minutes you do not need to defrost them. (Note the texture will not be as soft when you re-bake them from the freezer.)
You May Also Love...